The China Cutting Tools and Equipments Exhibition-2021 will be held in Suzhou International Expo Center from November 2 to 4, 2021. This grand event is co-sponsored by China National Machine Tool Sales and Technical Service Corporation, Chengdu Tool Research Institute Co., Ltd., and China Metal Cutting Tool Engineering Association(CMCTEA). It aims to take this professional exhibition for the tool industry as an opportunity to unite with industry-leading suppliers and channels Businesses, professional users, and media companies have built the exhibition into a professional exhibition event for the entire cutting tool industry chain, the entire technology chain, and the entire organization chain.
MORESUPERHARD as a research and innovation-oriented enterprise with deep cultivation and grinding, actively organizes an exhibition team to prepare for exhibition related matters, and will provide customers with more diverse and more efficient grinding solutions through the exhibition.
Moresuperhard Booth : D1-D-10, welcome to visit our products!
The exhibition MORESUPERHARD will exhibit the following exhibits:
1. Vitrified bond diamond grinding wheel for PCD/PCBN tool edge grinding
- High cutting edge quality, small chipping, machining arc precision R0.01
- 1μm ultra-fine grit size, ultra-fine grinding
- Good self-sharpening, easy to repair
- High grinding efficiency and stable performance
2. Grinding Wheels for CNC Tool grooving, rake angle, back angle, and chip flute grinding
- Resin bond and hybrid bond are available
- Good shape retention of grinding wheel
- Stable performance, low trimming frequency
- Suitable for high-efficiency grinding with fast feed
3.PCD/PCBN standard tools peripheral grinding wheel
- Adapt to WAIDA, EWAG, COBORN, AGATHON, Tiantong, Haibao
- High grinding efficiency and good cutting edge quality
- Long life of grinding wheel
- The grinding wheel has high precision and stable performance
4. Double end face grinding disc for high-efficiency grinding of double-end faces of workpieces
- vitrified bond and resin bond are available, with long service life
- The size and shape can be customized according to customer needs
- High grinding efficiency and good finish
5. Cylindrical grinding wheel for rotating tools
- Stable grinding performance
- High grinding efficiency
- High removal rate of rough grinding material and good processing of fine grinding edge
6. Cutting disc for cutting carbide bars, ceramic pipes, and glass
- Excellent cutting edge quality
- Sharp and durable, high cutting efficiency, long life
- High precision, small cutting seam, good surface quality
7. Metal diamond grinding wheel for CVD/MCD tools
- The removal efficiency of rough grinding allowance is high, and the shape retention of fine grinding wheel is good
- Stable product quality, good cutting edge quality
- The grinding wheel is cost-effective, wear-resistant, and has a long life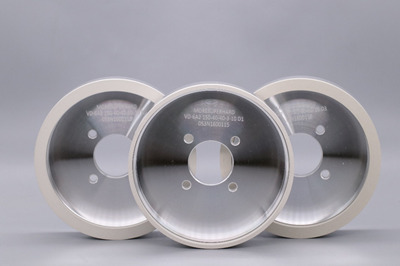 ---EDITOR: Cindy Chen
---POST: Doris Hu
TAG:&nbsp&nbsp&nbspvitrified diamond grinding wheel&nbspgrinding wheel for CNC tools grinding&nbspDouble end face grinding disc